This InfoPath SharePoint tutorial explains how to calculate a person's age (in years) given his/her date of birth in InfoPath 2010 in SharePoint 2010. It can be done without writing even a single line of code.
We only need to use rules, conditions, the today() function, the number() function, and the substring() function in InfoPath to calculate a person's age given his/her date of birth.
Use the following procedure to do it.
1. Create a new Blank Form in InfoPath 2010.

2. Design the InfoPath form as below:

3. Right-click the "Age" TextBox and make it read-only.
4. Select the Date of Birth Control like below in InfoPath form.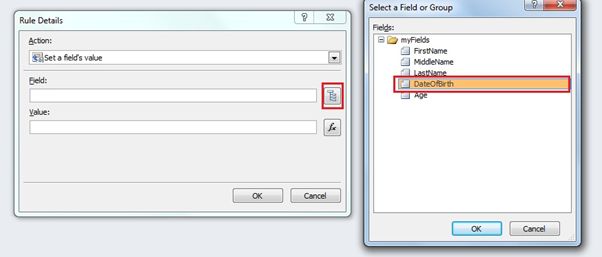 5. Select the Manage rule from the ribbon in the InfoPath form.

6. Add a new Action rule in InfoPath form.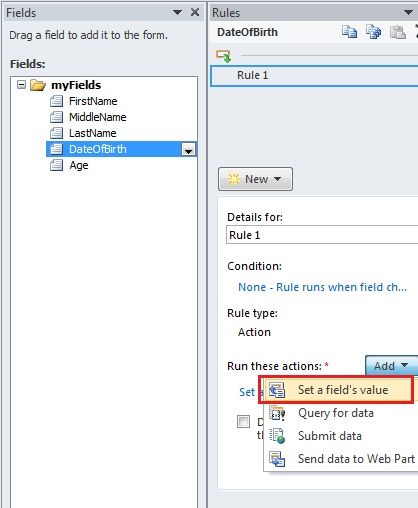 7. In the Action select "Set A field's Value".
8. In the field select "Date of Birth".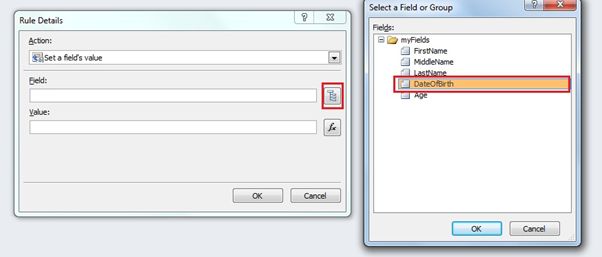 9. In the value select the function icon.

10. Add the following formula:
number(substring(today(), 1, 4)) – number(substring(., 1, 4))
11. Finally, you will get the preview as below:
You may like following InfoPath SharePoint tutorial:
The age in years will be displayed depending on the selected Date of Birth in InfoPath form in SharePoint 2010.
Download SharePoint Online Tutorial PDF FREE!
Get update on Webinars, video tutorials, training courses etc.